Amalfi is the main municipality of the Amalfi Coast – named la Divina, extending itself over 50 km from Vietri sul Mare to Positano and overlooking the gulf of Salerno.
Ancient Maritime Republic, rich in history and culture, Amalfi represents nowadays a famous touristic center, well-known all over the world for its landscape and monumental beauty, and, not an insignificant detail, for its good-tasting food.
From the creeks to the suggestive gorges, from the steps to the narrow streets, the typical white constructions, and the terraced gardens, Amalfi is a village for you to discover. Something not to miss is to visit the little workshops and to taste the most famous product of this land: the sfusato di Amalfi – a PGI (Protected Geographical Indication) lemon. This is a typical ingredient of coast gastronomy and especially of Limoncello, the famous liqueur of Amalfi.
It may be interesting to know that…
According to the legend, it seems that Ercole gave this name to the village in honor of Amalfi, the nymph with sea blue eyes.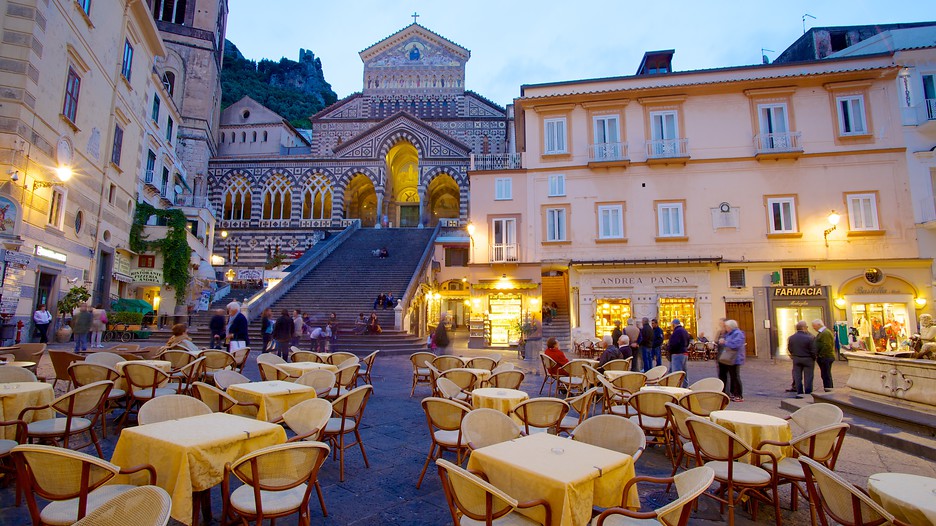 Opening hours
From 1/3 to 31/10: 10am – 6.30pm (open all day)
From 01/11 to 28/02: 10am – 3.30pm (open all day. Closed on Mondays)
Appointments not to be missed
Antica regata
Traditional regatta between the Ancient Maritime Republics – Amalfi, Genoa, Pisa and Venice – that takes place every four years on the first Sunday of June.
Festa di Sant'Andrea
Yearly, on the 27 of June, Amalfi celebrate its patron, Saint Andrew, carrying the statue representing the saint in procession through the streets of the village. Once the statue arrives on the beach, the fishermen pay homage to ''o vecchio' (that means 'the old man', referring to the saint), by offering him seafood. Then, the statue returns to the cathedral, carried back running as a token of strength and faith.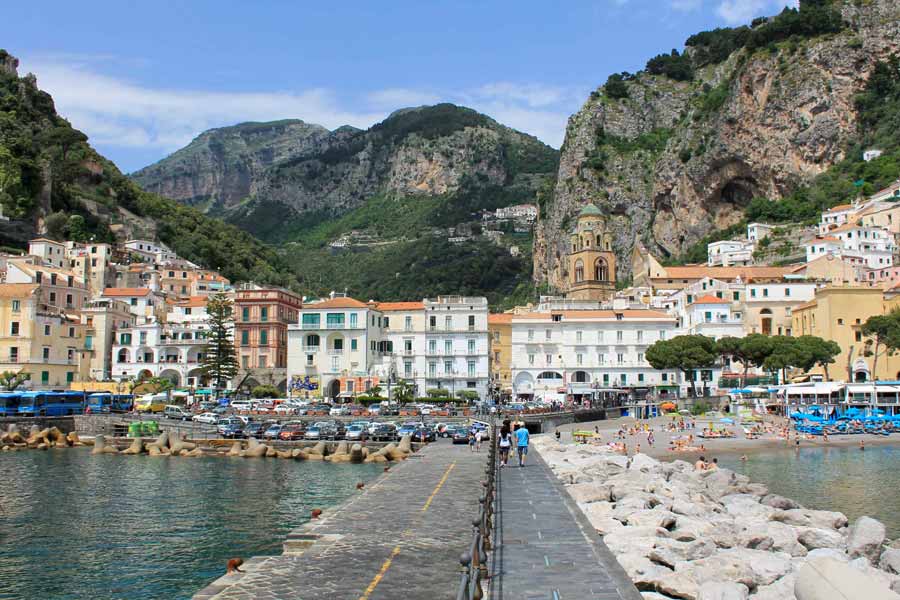 What to see
Amalfi Cathedral
The Amalfi Cathedral is an architectural complex in Arab-Norman style dated back to the IX century, when this Maritime Republic stood out because of its maritime and commercial power. Devoted to Saint Andrew, the cathedral is located in Piazza Duomo and it towers above the small coastal town from the top of its impressive flight of steps.
Open daily
Summer: 9am – 9pm
Winter: 10am – 5pm
More info: +39 089 871059
Paper Mill Museum
The Paper Mill Museum (italian: Museo della Carta a Mano), located in the enchanting Valle dei Mulini, is an ex paper mill where you can find the old paper machines used to make the Carta a Mano – the famous fine paper of Amalfi. There's also a library with about 3.000 books about the origins of paper.
By visiting the museum you can witness the paper production and the operating mode of the still functional water mills.